A Well-Written Company Employee Handbook Can Prepare Your Business for Success
Kevin Rose, founder of Digg and Partner at Google said, "a team aligned behind a vision will move mountains. Sell them on your roadmap and don't compromise — care about the details, the fit and finish." Having a well-written company employee handbook is a prime example of a business preparing for success. A good handbook is designed to thoroughly communicate a company's vision and policies and can be used as both an onboarding and ongoing reference tool. In terms of employee engagement and legal matters, any sized company can greatly benefit from providing all of its staff with an employee handbook.
As HR specialists, we have provided the five essential reasons every company should have an employee handbook.
Sets Employee Expectations
Sixty-nine percent of employees are more likely to stay with a company if they have a great onboarding process. Having a well-written employee handbook is an important part of the onboarding process and helps prepare new hires for their new workplace. When onboarding a new employee, it's important that they become familiar with the work environment, what is expected of them within their job role, and how they are connected to the company's overall mission and goals. An employee handbook can cover everything they need to know to have a positive onboarding experience and feel more a part of the team.
Having employee expectations included in the company handbook is also a great reference for current employees and will help them meet and exceed the standards set forth by the company. Employees should have a clear understanding of the company's culture, mission, and values to feel like a part of the team and be more engaged in their work. With a company handbook, employees have their own reference point on what is expected, which will help keep themselves and their colleagues in check.
Clearly Communicates Key Company Policies
The company policies should be established in the handbook to set the boundaries and standards every employee within the organization must follow. From having a strict no cell phones in the workplace policy to addressing legal obligations, your handbook must clearly state what the policy is, if there are any exceptions, and what the consequences are for not following the policy. By clearly communicating company policies in the handbook, employees are able to understand the rules and seamlessly integrate into the workplace.
Managers and other company leaders also benefit from having the company policies in the handbook. They can ensure their strategies and actions are consistent with the current policies. They are also able to use the handbook as a reference to help answer any questions an employee may have or know when to take disciplinary action.
Showcases Benefits and Perks
Employee benefits are crucial to recruiting and retaining your top talent. Eighty percent of workers would rather have a job with great benefits than a higher paying job with no benefits. Be sure to highlight the benefits that employees receive in the employee handbook to capitalize on this advantage. Cover any additional perks such as office lunches, continued education, discounts, and more. This would also be an ideal section to explain the policies regarding paid time off (PTO), sick leaves, and unpaid leaves so that employees understand how to utilize their benefits. Including benefits and perks in the handbook will be a key component in retaining your employees, reducing the cost of turnover and increasing engagement.
Tells Employees Where to Turn for Help
It is important that your employees feel comfortable knowing who to go to for work-related questions or to report an incident. According to SHRM, 70 percent of employees find one of the most important elements of engagement at work is to feel empowered to take action when a problem occurs. To ensure employees feel engaged in their work, thus making them more productive, have procedures outlined in the handbook so that employees know what to do when they need to report any work-related problems.
Ensures Compliance and Helps Defend a Company Against Employee Claims
Every business in every industry must comply with state and federal laws. Your handbook should demonstrate that your company is in compliance with these laws and is committed to remaining in compliance. Employee handbooks should mention how the company is in compliance with policies under the Equal Employment Opportunity Commission (EEOC), American Disabilities Act (ADA), non-discrimination, and worker's compensation.
Depending on the state, a company employee handbook could also be considered a binding contract. A well-structured handbook can protect both employees and employers from legal action and act as a valid defense against claims.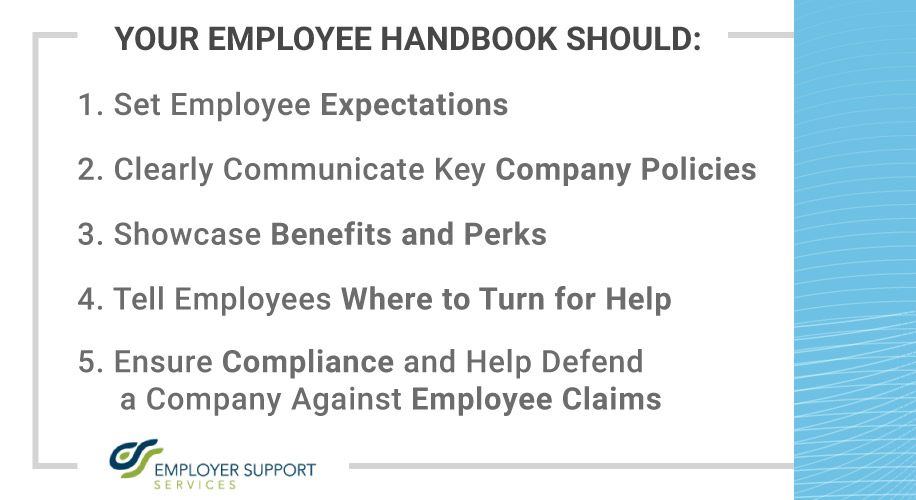 Need Help with Your Company Employee Handbook? Contact Employer Support Services
An employee handbook is a workplace manual that is customized to your business. In other words, one company's employee handbook may not be relevant or appropriate for your company. The transparency that your company shows in the handbook should also help increase trust and loyalty from your employees. In turn, you can have a more seamless onboarding system and a more engaged workforce.
For help creating an effective employee handbook for your company, get in touch with Employer Support Services today!